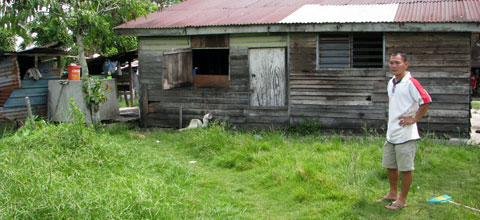 The Penan, one of the more unique of indigenous peoples of Sarawak, live in the forests of Ulu Baram. Some are still nomadic, whilst a hand-full have resorted to living in squats.
Penan at "home" in Miri from andrew garton on Vimeo.
Miri, the nearest city, provides the closest hospital to all the indigenous communities of the Ulu Baram. The Penan of Long Kerong, upper Ulu Baram, have squatted in two rundown timber cottages for over 20 years. It has become a kind of half-way house for those who need frequent medical attention and others who need a place to stay when transiting between their village, Miri and / or other parts of Sarawak.
This micro-doc provides a snap-shot of life in the Penan's Miri "home". It was cobbled together quickly to assist in raising funds to move Penan from the squat to rented premises in Miri.
Shot with a Canon Powershot S5 IS digital SLR and an Acer Aspire One netbook.
License
This micro-doc has been licensed under a Creative Commons Attribution 2.5 Australia license.
You may download, distribute and re-use this work as long as you:
understand the terms of the license;
acknowledge the Producer, Toy Satellite and Andrew Garton;
link back to this page:
toysatellite.org/sarawak-gone/penan-squat/
link to or publish the link to the license:
creativecommons.org/licenses/by/2.5/au/