The Forest and the Dam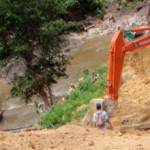 In The Forest and the Dam we review the Environment Impact Assessment prepared prior to construction of the Bengoh Dam. We look at the anticipated loss of habitat and bio-mass, and the inundation of protected and endangered species found in Upper Bengoh, Sarawak.
License
This micro-doc has been licensed under a Creative Commons Attribution 2.5 Australia license.
You may download, distribute and re-use this work as long as you:
understand the terms of the license;
acknowledge the Producer, Toy Satellite and Andrew Garton;
link back to this page:
http://www.sarawakgone.cc/the-forest-and-the-dam/;
link to or publish the link to the license:
creativecommons.org/licenses/by/2.5/au/
Tags: Bengoh Dam, Bidayuh, biomass, dams, EIA, Sarawak, video